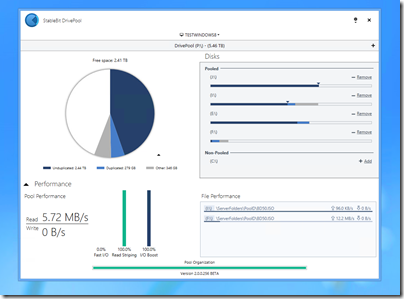 Version 2.0.0.256 beta of StableBit DrivePool adds some major new back-end features, improved read striping and a new Performance UI:
The new performance UI lets you see exactly what's happening on the pool, at a glance. It shows you the most important information in real time.

Read striping is a feature in DrivePool that is designed to improve the performance of reading duplicated files from the pool. In essence it can read from multiple disks at the same time in order to improve (or maintain) performance.
The good news is that this is going to be the last major addition to DrivePool 2.0 BETA. Next, the existing features will be polished up and DrivePool 2.0 will ship as a final.
More information on these latest features can be found in this covecube blog post.
Share this WHS Article with Others: