I used to use my PC to download torrent files whilst sleeping, but since my PCs are now turned off overnight and Windows Home Server is on 24/7 it seemed logical to install uTorrent onto WHS. The other advantage of installing it on the server was that if more than one of us in the house was using uTorrent it would not cause a lot of traffic on the connection and most importantly by the time you finish this tutorial it will also run without a logged-in user.
Create the New User
First of all we need to create a new user on the server. This is done for security reasons as we do not want to install uTorrent under the default Administrator account. Once this step is completed you may continue with the following.
Install and Configure
Connect via the Remote Desktop Connection as the user you have just created e.g. "WHS" and your newly created password.
Download the Windows Server 2003 Resource Kit Tools and install rktools.exe using the default options.
Next install the µTorrent 1.6.1 Installation Program using the default options.
If this is the first time you have installed uTorrent on your server then a dialogue will appear asking if you want to associate .torrent files with µTorrent. Click Yes. If a Windows Security Alert pops up asking if you want to Block or Unblock uTorrent Click Unblock and if the Speed Guide appears set your Connection Type and the Current Port that you would like to use.
You will now need to forward the port you selected above into your router. Details of router setup screens can be found at http://www.portforward.com/english/routers/port_forwarding/routerindex.htm (select your router and then uTorrent)
In uTorrent select Options then Preferences. Make sure your General screen matches this one:
Make sure that your download screen matches the one below. You can change the location for your Put new downloads in but do NOT use a server share. It has to be under a drive letter on the WHS otherwise the Drive Extender Migrator Service will cause data corruption errors as it tries to move the file onto another drive while uTorrent is in the middle of writing to it, or just before uTorrent tries to open the file to write to it again. The Move completed downloads to can be changed to any server share location.
The other screen should match this one. Once again the Automatic load torrents in directory location can be changed to any server share location. This setup enables uTorrent to monitor this specific folder for .torrent files and start downloading them automatically. All you have to do to start a download is place the .torrent file in that folder and uTorrent will do its stuff.
Using the Scheduler tab you can set your downloads to occur during "off-peak" periods by setting up a schedule if you so require.
As below, under Advanced Web UI Enable Web Interface and configure a Username and secure Password of your choice.
Click the OK button and close uTorrent.
Next Download the uTorrent WebUI and extract webui.zip from the rar archive.
Click Start then Run and type %AppData%\uTorrent. Place the webui.zip into this opened folder (do NOT unzip it).
Next download the uTorrent add-in for the Windows Home Server Console from here or here. Do NOT run it but place it in your Add-Ins Shared Folder (\\SERVER\Software\Add-Ins). Log In to your WHS console and go to Settings, Add-ins the Available tab and then click Install under "Windows Home Server – uTorrent".
Once the console re-starts log back in to the console and go to Settings, uTorrent and for Server type in http://YourIP:Port/gui/ e.g. http://192.168.1.110:22345/gui/
YourIP is your server name or IP address and Port is the uTorrent Port that you set up earlier.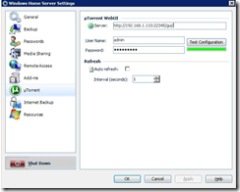 Next insert your User Name and Password as set up earlier. You can press Test Configuration to check all is OK. Red is not and green is fine. You may now OK out of the Settings and close the Console.
Create the User-Defined Service
From your Windows Home Server click Start then Run and type cmd. In the window that opens type the following which is all on one line, including the quotation marks.
"c:\Program Files\Windows Resource Kits\Tools\instsrv.exe" uTorrent "c:\Program Files\Windows Resource Kits\Tools\srvany.exe"
NOTE: Cut and paste will not work, instead highlight and copy the above line and then right-click in the open CMD window and select paste.
Press Enter on your keyboard. Once the screen displays The service was successfully added! you may close the cmd box.
We need to now create a .Reg file using notepad and paste in the 3 lines of code below.
Windows Registry Editor Version 5.00
[HKEY_LOCAL_MACHINE\SYSTEM\CurrentControlSet\Services\uTorrent\Parameters]
"Application"="C:\\Program Files\\utorrent\\utorrent.exe"
When saving make sure that Save as type is set to All Files *.* and save as service.reg. Double click on this saved file to import the settings into the registry on your server.
Now click the Start button and then select All Programs, Administrative Tools and then Services. Find uTorrent right-click and select Properties.
Select the Log On tab. Click the This account button and enter WHS as the This account and enter the Password you setup earlier for this user account and confirm the Password.
OK out and close the Services dialog.
Click Start, Shut Down then Restart.
That's it job completed. You can now connect to uTorrent either via the web interface using your browser using the format http://YourIP:Port/gui/ or via the WHS console (uTorrent heading).
All you have to do to start a torrent download automatically is place the .torrent file in the \\SERVER\Public\Torrents folder and forget about it.
P.S. Whose of you with Windows Vista may like to know that there is a sidebar gadget called µTorrent Stats that enables you to Start, pause or stop any torrent and allows you to view the stats and files for each torrent separately, all from the desktop sidebar within Vista.
Share this WHS Article with Others: