We were sent a private beta of Jungle Disk for Windows Home Server, an online, off site backup solution for Home Server.
Once the add-In was installed we were able to use the new Online Backup tab under the settings dialog to configure Jungle Disk. From here we clicked the link to take us to the Amazon S3 signup page. But if you have an account already you just need to insert your two security keys as supplied.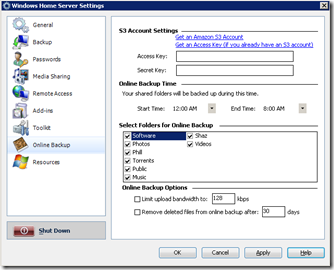 Within this tab, you also have the option of selecting which shared folders you want to backup and the time frame in which you would like this to happen. By default it uses the time that you have set in the Backup tab. In my example 12 midnight till 8 am. Your files will now be backed up during this period each day.
After the initial backup, only new or changed files will be uploaded and If the time period you have set is not long enough for your initial backup to complete, it will continue on the next day as needed.
You also have the option of limiting the bandwidth used by the backup, in case you use upstream bandwidth intensive applications like VOIP etc, and you can also specify after how many days that you would like to remove deleted files from your online backups.
The main screen allows you to pause your next scheduled task and start a backup immediately if required. The screen is mostly taken up by a log, that shows if there are any backup warnings or errors. A shortcut is also provided to take you back into the online backup settings tab as and if needed.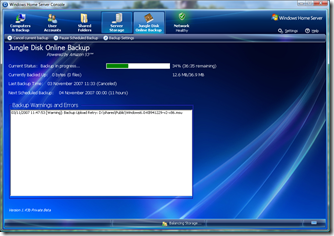 The Restore Files button opens another screen that enables you to select which SERVER to restore from (in case you have more than one). From here you also have the option of displaying files that are no longer present on your server, in case of situations like accidental deletion etc. This makes it easy to restore those files that are missing, quickly and easily.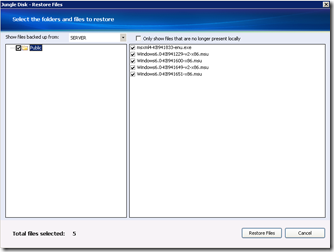 As we stated earlier, at the moment Jungle Disk for Windows Home Server is only currently available as an internal preview build but will be available shortly as a public beta. Several features which are planned for the final release version are:
Multi-version backup / restore
File / folder / file-type filtering
Byte-level incremental backups for changes to large files
More complex scheduling options
Additional restore options
Custom encryption settings (similar to the desktop version of Jungle Disk)
Backup history display
Integration with the WHS Health / Error reporting system
We look forward to the public beta release, as I am sure many of you are too.
Share this WHS Article with Others: