Dave Mercer has developed a new add-in. Windows Home Server Event Monitor monitors the event logs and sends them in a single email at a fixed frequency, with the ability to send some events immediately (e.g. remote login failures).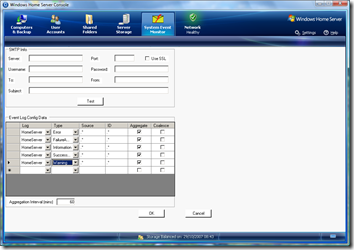 This is an Alpha release and Dave would love to hear your comments, suggestions and bug reports.
He also plans to add the following in later releases:
WHS Health Event Monitoring (to fill the blank real estate on the right side of the console).
S.M.A.R.T Monitoring of the disks. Particularly interested in disk temperatures and predicted time to failure.
Share this WHS Article with Others: