The Pre Release build of My Movies 5 for Windows Home Server 2011 and Windows Server 2012 Essentials has been updated.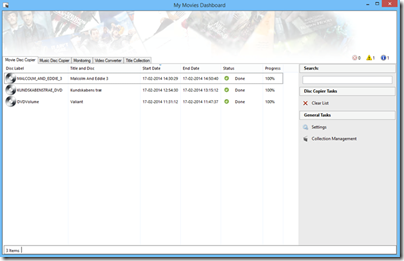 Here is the change log for My Movies Home and Essentials Server Solution 5.00 Pre Release 9:
Added: Professionals can now mark prior installations for automatic updates, and the software will then auto-purchase an upgrade license when My Movies 5 is installed.
Change: Performance of returning images in API.
Change: Extention of database optimization.
Change: The software no longer asks to confirm credentials for single-element locations.
Change: Personal data for Disc Titles is now saved together with rest of the data for the disc title.
Fix: About page in Windows Media Center showed My Movies 4 and not 5.
Fix: In some situations, the client PC could try to upgrade the server database.
Fix: In case of login problems, the database upgrade could be attempted more than once.
Fix: External credentials dialog could fail if not all credentials was added.
Fix: There could be issues storing drive configuration in some situations.
Fix: On disc title updates, the compare dialog contained a broken image.
Fix: Error when updating TV Series made it look like there was always new updates.
Fix: Person and role image sometimes got mixed up on update of person data.
Fix: Role information for TV Series characters is now updated with Series update.
Fix: Parental Controls were not available in settings when Windows Media Center was not present.
Fix: Discs could start to copy, even when the disc copier was not enabled.
Fix: Dune meta-data storage could not handle multiple elements having the same title.
Fix: Change in the GetTitleList API XML could cause problems for remote control drivers.
Fix: There was a problem in the migration function causing some images used for the API to not be generated for TV Series. Users affected can use the optimize database option, or restore a prior database.
Fix: Various issues with poster language contribution.
Fix: Migration message dialog did not open on top of the splash screen, and could be invisible.
Fix: Monitoring had problems with using folder configuration on Windows Home Server and Server 2012 Essentials
More info including download links can be found here.
Share this WHS Article with Others: