CloudBerry Backup for WHS (v1, 2011, SBS 2011 Essentials and  Windows Server 2012 Essentials) has had an update.
Version 3.1 has the following features:
1. Archive Amazon S3 data to Glacier. Amazon has recently released the functionality that allows easily archive the data from Amazon S3 to Glacier low cost storage. With the latest release of CloudBerry Backup you can take full advantage of that functionality.  With the addition of this functionality you almost don't need to perform any specific modifications to your existing backup plans and easily move existing data to Glacier.
http://blog.cloudberrylab.com/2012/11/how-to-archive-amazon-s3-data-to.html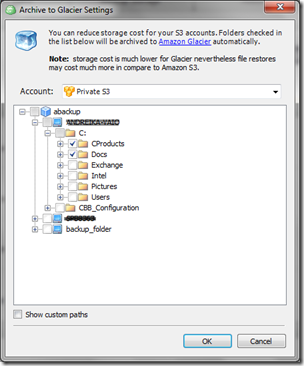 2. Restore in the background and scheduled restore
The latest version comes with the feature called Restore Plans, which allows you to run the restore process in the background and/ or by schedule.  It addresses two important use cases:
1. Run the restore process in the background. This is important for instance with the Glacier restore when you need to wait 4-5 hours for the data to become available.
2. Run the restore on another server periodically on schedule to make sure the other server has the recent copy of the data.
http://blog.cloudberrylab.com/2012/11/automate-data-restore-with-cloudberry.html
3. Detailed email report with the list of files successfully copied or failed.
The email notification has been one of the most popular feature of CloudBerry Backup for a long time. Over the time we improved the email report, added the ability to use custom SMTP server for the server edition and added the ability to report status to the Windows Event Log.  With the latest release you can an option to generate a detailed list of files copied with each back up
http://blog.cloudberrylab.com/2012/11/generating-report-with-list-of-files.html
More information on CloudBerry Backup for WHS can be found here.
Share this WHS Article with Others: