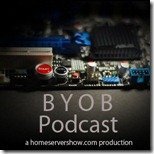 Episode 100 of the BYOB (Build Your Own Box) podcast is available:
This week Jim Collison and John Zajdler join us for an open discussion of technology and hardware. It BYOB's longest show yet so keep that commute in the slow lane for The 100th episode of The BYOB Podcast.
You can find episode 100 here.
Share this WHS Article with Others: