With the earlier announcement of the Western Digital Red hard drives for NAS, retailer newegg now have them available.
The 1TB model is listed as $109.99 which is .99 cents more than the MSRP whilst the 2TB and 3TB models are both $10 cheaper than MSRP being at $129.99 and $179.99 respectively. Also our friends at PC Perspective were able to get hold of the 3TB model and have given it a thorough testing.
The WD Red was tested alongside all three flavours of the Caviar Green (6Gb/sec, 3Gb/sec, and the AV-specific one meant for DVRs), the Caviar Black and the enterprise grade RE4-GP and RE4. The 1TB VelociRaptor was also included for some high-end perspective.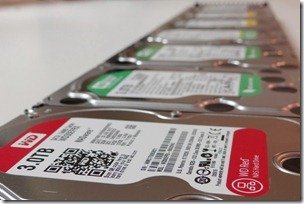 In their review they take a peek inside at the internals of the drive  as well as detailing the specs and of course a lot of testing:
"…I see the Red becoming the defacto standard for all bulk storage array applications. Given the recent push towards the home NAS concept, I think a bunch of folks are going to start seeing Red everywhere (in a good way)."
And so do we – You can find the PC Perspective review of the WD Red here.
Share this WHS Article with Others: