Western Digital have announced the WD Sentinel DX4000 Small Office Storage Server which comes equipped with Windows Storage Server 2008 R2 Essentials.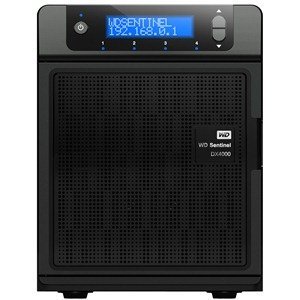 This great looking server comes in either 4TB or 8TB configurations and can be further expanded thanks to its 2 x USB 3.0 ports. Powered by an Intel Atom 1.8 GHz dual core processor and 2GB of RAM the WD Sentinel DX4000 features an LCD display panel on the front of the unit which displays system status and critical alerts and comes complete with dual Gigabit Ethernet configured in Adaptive Fault Tolerance mode, which keeps your network available by automatically switching to the second Ethernet port if the first one should fail.
Equipped with WD's Enterprise Class WD RE drives these can be configured as a RAID 1 array (2 drives only) or a RAID 5 array (3-4 drives), the WD Sentinel DX4000 can hold up to 4 SATA hard drives.
You can also view the real time updates for these drives, your RAID array and your network status through the WD Sentinel's Dashboard.
With Windows Storage Server 2008 R2 Essentials being a close cousin to WHS 2011 this little server from WD will look nice in any Home Server users home.
You can currently purchase the 4TB model (WDBLGT0040KBK) for $950 and the 8TB model (WDBLGT0080KBK) for $1450.
More information is available from here.
Share this WHS Article with Others: