Beta 2 of AutoExit 2011 for WHS 2011 is available for download.
This version mostly fixes issues that were present in Beta-1 and it had been made fully compatible with the release version of WHS 2011 like the client installer that was a separate installer which has now been integrated.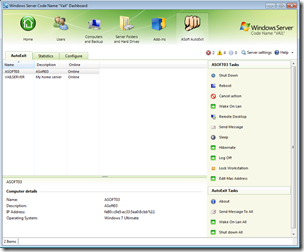 A new feature in this beta is that you now have the option to add non-WHS machines, those client machines which do not have the WHS Connector Software installed
You can download this beta release directly from here, whilst additional information is also available.
And please report any bugs directly to ASoft on their feedback page.
Share this WHS Article with Others: