Version 1.3 of WHS Phone for Windows Phone 7 is now available in the marketplace.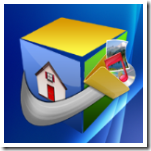 WHS Phone is a phone application for Windows Home Server. Connect to your server and browse files, stream music, view photos, and much more. Available now in the Windows Phone 7 Marketplace.
This latest release, includes:
Completely new UI
Streamlined Photo browsing
Cleaned up the Audio Playback
Added Server Restart and Shutdown
Added full search of shares (uses windows search)
Added photo upload from the Gallery and/or SD card
Ability to download ANY file to your phone
Added the ability to add Users and Shares from the phone
Video Streaming
WHS Phone for Windows Phone 7 can be downloaded from the marketplace and is priced at $4.99 (£3.99).
Additional details on WHS Phone are available from here.
Share this WHS Article with Others: