The Add-in Remote Notification which enables you to keep up to date on the status of your Home Server no matter where you are,  has had an update.
Version 1.5.1.2 includes a number of new features plus minor bug fixes, including:
The biggest new feature is a Mac Connector application that offers Windows Home Server Health Alerts on your Mac desktop as well as reporting of Time Machine backup status to your Windows Home Server for centralized reporting and alerting. The current backup status of all Macs that are running Remote Notification is also included in the Daily Email Reports.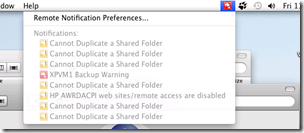 Windows Home Server health alerts can  now be displayed on your Mac desktop.
The new Mac Clients tab allows you to monitor the backup status of your Macs from your Home Server Console.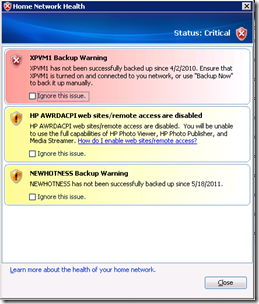 A Mac that hasn't been backed up recently.
Simple configuration via preferences pane.
Here is the full change log for version 15.1.2:
Feature: Mac application displays WHS Health Alerts on the Mac Desktop via a menu item
Feature: Mac application reports Time Machine backup status to the server for monitoring and alerting
Feature: Mac Client status is displayed in the Daily Reports if you have any Macs configured
Feature: More details in short message formats (Twitter and SMS), fully utilizing them to their max length when possible
Feature: Added "Create Debug File" button to Advanced settings tab to facilitate easier support
Bug: Windows Updates times in Daily Reports now correctly reported in Local time rather than UTC time
Bug: Recipient Add/Edit dialog updated to properly enable the Save button when settings are changed
Bug: Don't allow Twitter recipients to change their Recipient Type, must delete and add new Recipient instead
More details on all these features are available here.
Share this WHS Article with Others: