The new HP MediaSmart Server's codenamed "Encore" have today been officially announced.
Using the same chassis as the original versions, "Encore" will be available in two configurations the two new models will be available in early February and will consist of the EX485 which comes with 1 x 750GB hard drive and 2GB of RAM and the EX487 comprising 2 x 750GB hard drives (1.5TB in total) and again 2GB of RAM. US pricing is $599 and $749 respectively whilst UK pricing and availability is still pending.
I have had the privilege of testing the EX487 extensively for the last month or so and must say I am really impressed. It's good to see that HP took notice of consumer criticism and upped the RAM from the 512MB which came as standard in the EX470/EX475 to the 2GB in the new range which is more than enough to run the MediaSmart Server even whilst streaming and backing up at the same time.
The English dictionary definition to encore is:
"an extra or repeated performance; usually given in response to audience demand"
OR 
"a second achievement especially that surpasses the first"
And the new range of MediaSmart Server's defiantly live up to both expectations. Extra performance is there courtesy of a Intel Celeron 2.0 GHZ 64-bit Processor and in response to consumer demand HP have packed in additional features on top of Windows Home Server and in addition to what was in the existing models.
So what's new?
The HP MediaSmart Server now includes three types of streaming media servers which stream media from the HP MediaSmart Server to your devices:
Packet Video's TwonkyMedia allows you to share your music, photos and videos to connected media receivers and mobile devices throughout your home like a XBOX 360 a Sony PSP and other Digital Media Receivers (DMR) including Generic Media Players, WinDVD, Windows Media Player, Archos, DirectTV DVR, generic Media or Music Receivers, HP MediaSmart TV, Roku SoundBridge, and generic DLNA 1.0/1.5 device's to name a few.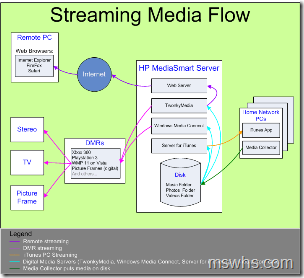 The Web Media Streamer streams your media to the internet where you can access it via any computer with a web browser.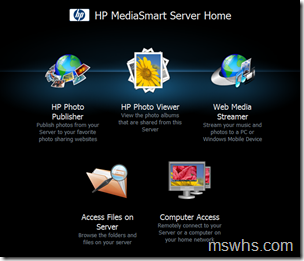 The Server for iTunes allows you to stream your music and playlists, even protected content to computers that are running iTunes or compatible devices.
Within the setup, a Media Collector provides the ability to copy your iTunes music library and playlists to your MediaSmart Server, centralizing your iTunes library for playback on any computer on your home network that runs the iTunes software.
The Media Collector also has the job of taking your media files from computers on your network and copying them to the HP MediaSmart Server and organizing them.The Media Collector continuously copies files allowing you to maintain a comprehensive library of music, photos, and videos in one location in your home.
You can also stream media to a television and/or stereo which is attached to a Digital Media Receiver.
Mac backup is now supported with Mac OS X 10.5 or later on the new HP MediaSmart Server. You can use Time Machine to back up a Mac to the HP and get easy access to the shared folders on the server using the Control Center.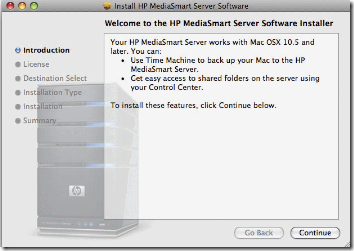 Accessible by clicking the desktop "HP MediaSmart Server" shortcut icon, the Control Center is a a panel which provides shortcuts to valuable resources and tasks within the MediaSmart Server.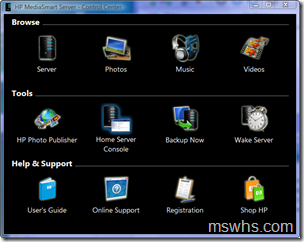 Online backup is now taken care off via a supplied add-in from HP which uses the services of Amazon S3 to save your selected important shares to a remote location on the Internet.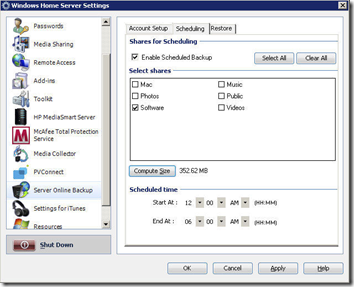 As well as scheduling backups you can also do immediate online backups and also browse and restore your online files.
The HP Photo Publisher allows you to post photos which are stored on your server to the following photo sharing sites. HP's snapfish, Yahoo's flickr, Google's Picasa Web Albums, the social networking site facebook and the internal generated MediaSmart PhotoViewer.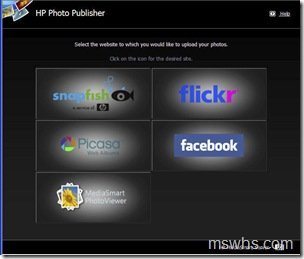 Uploading your photos is a simple 4-step process enabling friends and family to see your photos on the internet.
The HP Photo Viewer allows you to open, rename or delete an album as well as allowing you to view the albums in a Filmstrip or Slideshow view via a personal URL.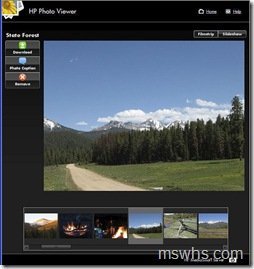 A Power Management screen within the console settings enables you to define a time period to let you put your MediaSmart Server into sleep mode thus saving power. The server will automatically wake up, either for a backup, from input from the Control Center, or by pressing a button on the server.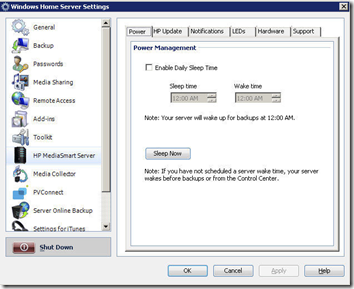 US pre-orders will be available from the 5th of January from Amazon.com, BestBuy.com, Buy.com, Frys.com and NewEgg.com. Both models will be officially announced at both the International Consumer Electronic Show (CES 2009) in Las Vegas and Macworld in San Francisco. Availability is expected in early February.
What an amazing start to a New Year!
Share this WHS Article with Others: