The Addin Cleanup Tool is a small handy utility that will remove add-in entries from the list of installed add-ins, that can't be removed anymore due to a problem with uninstalling the add-in.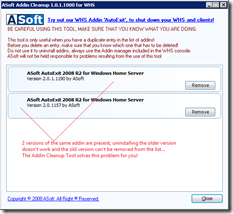 Normally the procedure would be to edit the registry and deleting a key, but now this tool from ASoft does the job for you and also creates a backup of what was deleted as well.
More information is available from here.
Share this WHS Article with Others: