Nick from the add-in AutoExit has been in touch to let us know that R2 of the 2008 version is now available for download.
Nick says that the beta program of AutoExit is nearly finished and this should be the last version before releasing the final.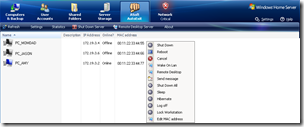 New features:
WOL Server from client automatically. Waking up the server can now be done
from every client automatically, so that when a client wakes up, the server
is woken up.
Changes:
A few small additions in the guideline.
The balloon tip for the client that pops up after startup, has been
removed.
WOL Server didn't always work, this is fixed.
Installer supports more languages.
When a machine was upgraded, it is displayed twice in the list (which is
normal), but it couldn't be shut down because AutoExit gave a message that
the machine was offline. This has been fixed.
The latest version is available from here.
Share this WHS Article with Others: