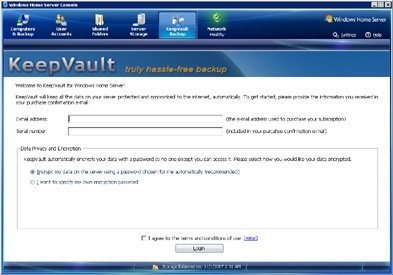 Proxure, has officially announced KeepVault for Windows Home Server. The KeepVault family of products let users automatically backup all of their media files online for storing, managing and anywhere access as we discussed here.
Using the easy to use KeepVault for Windows Home Server application, files on Windows Home Server are backed up online, for access via the KeepVault interface or for fast one-click restore.
For a limited time only, Proxure is offering unlimited online storage for just $78 per year (only $6.50 per month). By coupling the power of Windows Home Server and the flexibility of unlimited online storage, users can now have total peace of mind knowing that all their valuable documents and digital memories are protected.
It is available on their site right now and this is a great deal for unlimited storage.
Share this WHS Article with Others: