Remote or off-site backups are a great solution for those who wish to protect their WHS files from fire, flood or theft. This adds a great layer of redundancy in case of catastrophic loss. For WHS there are a few remote or on-line backup options out there (iDrive-E, Mozy, Carbonite) and some even offer a WHS console add-in (Jungle Disk, Keep Vault). But these services either charge a monthly or per GB fee, which can quickly get expensive! Also, your precious files are in the hands of some unknown holder. But there is another solution and all you need is your own remote web site server with some extra storage space.
Personally, I use Handy Backup on WHS to run a weekly FTP upload of "special" files to my remote web site server. This gives me a great layer of redundancy for no additional cost per month because I already pay a monthly fee for the web server. My web server is cheap! I use a company called BlueHost for my web site needs. It's only $6.95 US a month and is cheaper still if you pay up front for a year. You get 300 GB of storage, 3000 GB of transfer and a free URL if you need one, plus a ton of extras. Heck, that's better than many of the fee based backup options listed above! So, if you want a more economical and customizable remote backup solution for WHS…then this option may be for you. All it takes is a basic understanding of the FTP protocol, a cheap web host plan and an hour to set up Handy Backup on WHS.
This article lists the steps necessary to set Handy Backup to run as a WHS Service and backup files to your off site server via FTP. This will allow Handy Backup to run in the background without being logged into a user account. This setup can also be used to create backups within your network as well. This was tested on WHS RC1 and the OEM (RTM) versions during October 2007.
Step 1: Get the software
The software comes with a 30 day trial or you can buy it for about $39 US.
Don't bother to pay the extra money for the Run as Service! You are going to do it manually for free! Handy 5.8.0 comes with a 30 day trial for the Run as Service. Again, you're going to set it for free!
It's a zip file, so you may want to get it on your PC, unzip and place the .exe in a share folder with the other three files.
Step 2: Install Software
Log into WHS via Remote Desktop. Drag all three files from your share folder to the Desktop.
Install the Windows Server 2003 Resource Kit Tools.
Install Handy Backup.
During installation, install links to the Start Menu and the Quick Launch Menu.
During installation, tell Handy to open when finished.
Once started click on File>Settings. At the top click General. Uncheck "Launch Agent at Windows Start Up" and "Show Splash Screen at System Startup." This is to reduce the annoyance factor at logon time.
If you paid for your license, install your key so you don't forget.
Close Handy Backup.
Step 3: Set Up the Handy Backup Service
Open Marcel's AnyServiceInstaller Tool
Open the Mode menu from the toolbar and select Advanced.
Click the first Browse button and go to the folder where the Windows Server 2003 Resource kit was installed. It should be: C:\Program Files\Windows Resource Kits\, select the Tools folder and hit OK.
Now click the second Browse button and go to the folder containing the Handy Backup hbagent.exe. C:\Program Files\Novosoft\Handy Backup select hbagent.exe and click Open.
Warning—Do not select the backup.exe or this service will not work properly!!!
Under Service Name give this service a name that's easy to remember. I choose "HandyBackup Task Bar Agent," but you can choose anything you like.
Under User Name, enter the main WHS administrator name. With RC1 and OEM the default is Administrator unless your changed it during WHS installation. It is case sensitive too.
Under Password enter your main WHS administrator password. It is case sensitive too.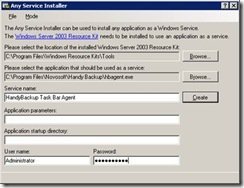 Here is what it should look like. Click "Create" and then Reboot WHS.
Step 4: Configure Handy Backup-Decide which folders to back up-Set the FTP parameters.
Open Handy Backup using the Quick Launch icon you set up earlier.
In Handy Backup, at the top task bar select File>New Task. Below is the window you should see afterwards.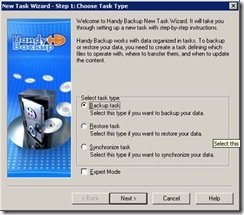 Select the Backup Task radio button and click Next.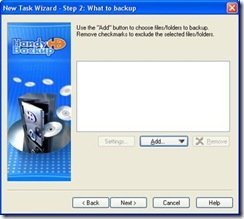 Now click Add. A menu will pop up and have many choices to select. Folders is listed at the top. Click on the Folders Icon to select an entire folder on WHS to backup.
You can select folders or individual files after clicking on Add. You can keep adding to this list with as many folders or files you want to back up for this particular day and time. If you need other dates or times then you will have to repeat this entire sequence with a new task for each grouping of folders or files.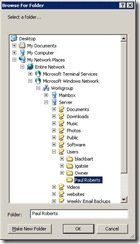 You now must find your \\Servername\Foldername . Browse to your My Network Places>Entire Network>Microsoft Windows Network>Workgroup> and find your server name and click to expand file list. In this case my set up is \\Server\Users\Paul Roberts . Select the folder or sub folder within you wish to back up via FTP and click OK.
Warning, do not select My Computer>Data (D) and then to Shares. i.e. D:\\Shares. Files backed up via this root may become corrupted!!!!
You can also configure Handy Backup to backup files from WHS to ANY network PC hard or USB drive as well…….
You can also configure Handy Backup to backup files from a network PC or USB drive and send them via FTP along with the files being sent from WHS……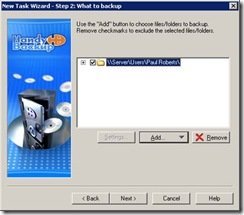 I selected a folder with a single 2 Mb PDF so I can easily/quickly check for file transfer during testing.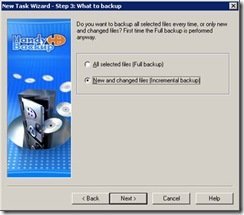 Select your backup method. Either a full back up or new and or changed files. The second option saves time and bandwidth after the initial backup is made. Especially with large files.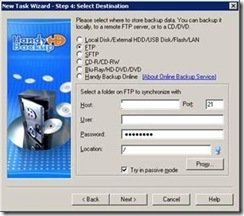 You can also backup files or folders to/from WHS, to/from a network PC or USB drive too. Or just about any way or direction you want…. Not just FTP.
At Host enter your remote server IP. Then your port, user name and password.
Next to Location / click the blue PC monitor to open the FTP connection to your server. You should be able to get into your server. Toggle Try Passive Mode if one way does not work. Passive mode is most common.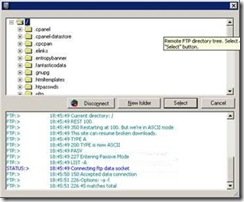 Once logged into your server (you will see the server communication in the bottom portion of the window), Click the top folder / icon. If you don't get logged in, double check your IP, user and password or toggle Passive mode.
You can Select an existing folder or create a New Folder.

I chose to Create a new folder. Name it something easy to remember and click Create.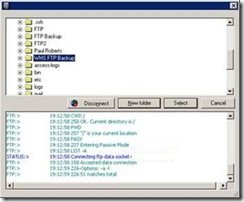 Now your new folder should show up in your server listing. Highlight your new folder and click Select.
Click Disconnect.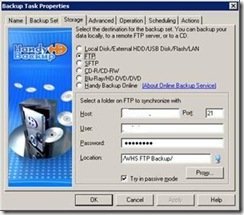 Now your FTP settings are complete. Click Next. (my Host and User settings are hidden)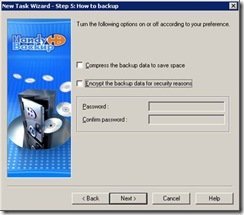 Here you can choose to compress or encrypt your data. I did not choose either.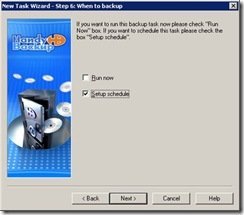 Now check Setup Schedule and click
Next. Don't select Run Now at this point. You still want to test WHS and Handy to run without being logged in….. Almost done.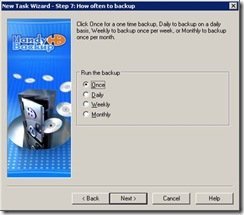 Until working correctly, select Once and click Next. When everything is working you can come back and change the time and frequency of this backup via Properties for this scheduled backup.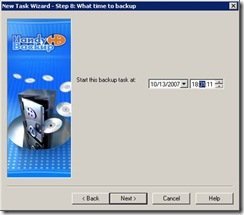 For testing purposes, set your time ahead about 5 minutes. That will give you time to finish the next screen and then RESTART WHS for a test run. Click Next when done. Again, this can all be changed once you know things are working correctly.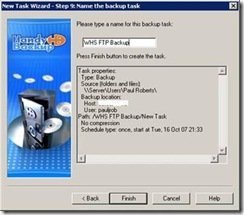 Now assign a name to your backup task and click Finish.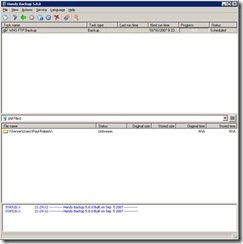 Your first file backup schedule is done. Now for the test. You did give yourself 5 minutes or so before the backup begins??? Now, note what time it is and Restart WHS. Remote desktop will turn off. But don't log back into WHS! You want to make sure the Handy backup starts the service on its own and runs the scheduled backup you just made.
I gave myself a 5 minute window, which should be enough time for WHS to reboot and start the service. Then either watch your router lights to check for data transfer or use your favorite FTP program on your client PC and keep refreshing the view until your files show up. If all goes well, your files should transfer and Handy will close its FTP connection. If not then you need to check that your folders, dates and times are correct. You are now done.
Step 5: Optional–Handy Backup Service Settings Check:
To check your service settings in WHS click Start > Control Panel > Admin Tools >Services. You should find your Handy Backup Service listed. Double click the Handy Service to open the window and toggle through the tabs. Below are my service settings as done in the examples above. You can start, stop, pause or disable the service should you ever need to.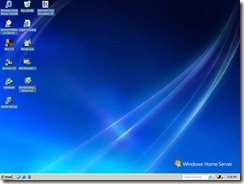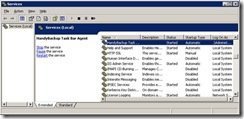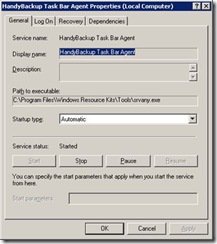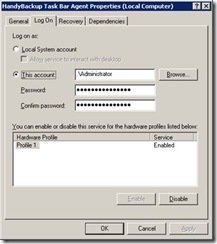 Guest Writer
Paul "The Judge" Roberts ©2007
Share this WHS Article with Others: