We reviewed KeepVault 2.0 in the past and was impressed and now KeepVault WHS beta 2.1 is available for download. KeepVault is an online backup service for your Windows Home Server. The software fully integrates into the Home Server console enabling you to select which shares you want to protect. It then monitors for changes/additions to these shares and automatically uploads them to secure storage servers hosted by DriveHQ. If this auto backup routine is not for you you can also upload once every evening (Midnight to 6am) instead. New in this beta is the ability to limit the amount of bandwidth used for your uploads and of course being an online/off site backup service you can access your protected files anytime via the web by logging into your account at http://www.drivehq.com.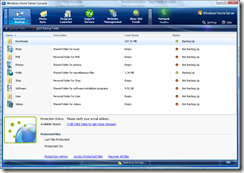 This current beta includes a free account with 3GB of storage space, with a 10 MB download limitation but Pay-for accounts are available for higher storage needs. KeepVault are still tweaking the pricing for the WHS market but as an example, currently they are offering 13GB for just about $8/month. You can see all their pricing plans here.
A KeepVault spokes person hade this to say:
"We take the back-end storage reliability very seriously – so you likely won't see some of the other outrages deals promised by other service providers simply because our reliability and data security requirements are pretty strict. We definitely understand the cheaper prices from the competition, but want to make it clear we're definitely going to target users who value uptime and reliability of their backups – and we won't throttle uploads in any way, unlike some of the other guys. With that said I hope you'll be pleasantly surprised at the pricing when we roll out the service. Also keep in mind KeepVault is designed to protect the data on the WHS server, and we think it's pretty easy to use."
In their previous beta KeepVault were using MediaMax as their storage provider but due to reliability and API issues DriveHQ now provides the storage space.
Download KeepVault today for a trial run and let us know what you think.
NOTE: This beta version will expire October 1, 2007. File protection will stop and the WHS console will notify you that the beta software has expired. A final release version will be released after this date.
Share this WHS Article with Others: