You may notice that it can take quite a time to move/copy large amounts of data to the WHS shared folders. To speed up this file transfer process I use FastCopy from SHIROUZU Hiroaki.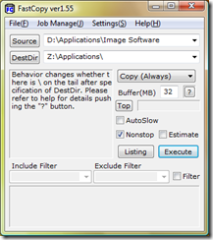 To get the FastCopy utility to work you have to first map your shared folders to drive letters*.
Copying 9.12GB of files using copy and paste in Windows explorer took just under 37 minutes and with FastCopy the same data took just under 15 minutes. A huge difference! It has saved me many hours moving my 250GB of data to my Windows Home Server shared folders using this utility.
*Map a drive to a shared folder in Windows XP
*How to map a network drive in Windows Vista
Share this WHS Article with Others: