After my review on Online Offsite WHS Backup Solutions, the winner of the gold award was IDrive-E. A few installed it and are happy but a couple of you asked for my own configuration details and a walkthrough.
So without further ado, here it is:
Remote Desktop into your WHS and install the IDrive-ESetip.exe. Install it to the default directory and when prompted click Yes, restart the computer now. The WHS will now re-boot and you will have to Remote Desktop into the WHS again.
Click the IDrive-E Shortcut on the desktop and login with your details. Make sure that all 3 items at the bottom are ticked.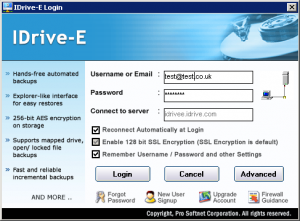 Once you have logged in its easy to configure:
Go to the File Selection Wizard and make sure everything is unchecked then OK out of the dialogue.
On the Backup tab open D, and place a tick in Shares (all the shared folders below this folder will now also be ticked)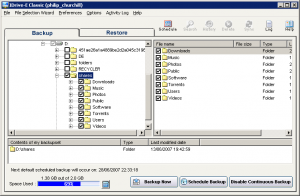 Click on the Schedule button (top, middle).
Make sure Use Custom Backup Time is circled, set your backup Time and set Frequency to how you want it. I have mine set to Hourly.
Under Email notification options I set mine to Notify Always then enter your email address into Mail To: and then click Add. Then tick Send log extract. (On this screen make sure that Desktop notification, Backup when idle and Automatic power off after scheduled backup jobs are NOT ticked).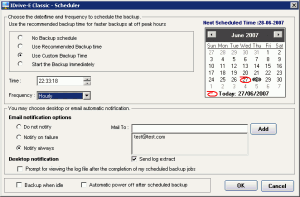 Now click OK out of the dialogue and click on Enable Continuous Backup (Bottom, right)
The 'Enable Continuous Backup' option will let the IDrive-E application automatically recognize and perform backup of files and folders that have been recently updated within 10 minutes. This option performs backup of files, which are less than 50 MB size without any intervention from you.
UPDATE: This "Enable Continuous Backup" feature is new in version 2.0.0 and when enabled bypasses what you have set in your schedule. Because of this reason and also because some of the files that I backup are over 50mb I have now disabled this feature.
Finally close "IDrive-E Classic" by clicking the X (top, right)
You can now Log-Off your Windows Home Server. And that's it job done and WHS protected from disaster. Hopefully!
Share this WHS Article with Others: