In my post about the new forth coming book Windows Home Sever for Dummies, Drew left the following comment:
I would like "Easier to understand details on how WHS controls the drives and storage. Seems like a lot of people are worried about backing up WHS, but you do not need to if you know how WHS does Duplication. "
Woody Leonhard replied:
"…offsite backup is critical if you're worried about losing your data. I'm surprised that MS didn't build that into WHS – but agree wholeheartedly that Folder Duplication is 10,000% better than what most people are doing now."
I totally agree that we need an offsite online backup solution. If the worst scenario struck and your server was destroyed by fire or 2 of your hard drives died at the same time (it has happened too many people in a lightening strike) all our data that we have transferred to the server so we can have a central data store would be lost. WOW. It's not worth thinking about – Or is it?
What's why I have decided to look at the current online backup solutions? I lined up the candidates. Jungle Disk powered by Amazon S3, Mozy, Carbonite, Proxure KeepVault and IDrive-E. Both Mozy and IDrive-E offer 2GB of free storage space, but I have 120GB in my shared folders that needed backing up so I would need the "unlimited" versions. My budget was $10 (£5) or less per month. I wanted to see how these five contenders would compare?
First off was Jungle Disk powered by Amazon S3. They don't do an unlimited account but charge per GB. 120GB with a monthly transfer rate of 2-10GB would cost $18.40-$20 per month. Too expensive for me, so candidate number one can be crossed off the list.
Next up is Mozy from Berkeley Data Systems. I used to use this myself on my xp machine and it was excellent and cheap at only $4.95 per month or $54.45 yearly. I transferred the downloadable executable over to the WHS, but when trying to run the following error appeared:

On looking at the Mozy Pro page they charge $0.50 per GB per month and you also need a licence per server that is being backed up, which is $3.95 per month. The price for backing up my 120GB with the license fee is $63.95 per month. Six times over my budget!
Berkeley Data Systems have told me that they may be looking into a WHS version at a future date.
Candidate number 3 Carbonite. You can't pay monthly but at only $49.95 per year that is less than $4.17 per month. This is one I have also used in the past before using Mozy. The reason I stopped using it and used Mozy instead was because Carbonite only backs up certain file types. If you have exe, cab, msi, chm (and the list goes on – over 180 different file types) in your shared folders they will not be backed up during the backup sessions. You can manually right click on all the excluded files and Back them up individually. But for me this was an unnecessary step and time consuming as over 50 GB of my backups would be exe files.
Carbonite installed and worked fine on WHS but with so many file types being excluded from the auto backups I had to continue to find my ideal off site backup solution.
Candidate number 4 Proxure KeepVault powered by Streamload/MediaMax. This is the only one here that has an add-in for Windows Home Sever. If you have under 25GB of data to back up this is the business, although you would properly need to go to another plan if you wanted to do a complete restore of your off site backups as the free plan only includes 1GB per month of downloads. Anyway for my 120GB I would need the Elite package at $9.95 per month which will allow for expansion as it allows up to 250GB online storage but only 25GB per month for downloads.
The add-in installed fine and my test data all backed up fine, although slower than the others for some reason. I had a few technical issues that were sorted by Proxure very efficiently (thanks Kim) although an account issue that I have with Streamload/Mediamax is not so good. An email was sent twice 9 days ago and still no reply, not even an automated one to the question I posed!
I shall re-test the lengh of time it took to backup the data at a later stage and post my findings here in the meantime Proxure KeepVault gets my Silver award.
UPDATE – 7 November 2007: KeepVault now use a different provider instead of Streamload/Mediamax for their backend, which has improved performance immensely. They now also offer unlimited backup at a great price. More information can be found in this post.
And finally our last contender IDrive-E. I would need the Pro version at $4.95 per month or $49.50 yearly. This allows unlimited backup for my future needs and there are no Limits/restrictions on upload/restore data compared with Proxure KeepVault. The application installed fine on the server and configuration was fairly ok although I had one minor issue which was quickly resolved by the very efficient telephone support team at IDrive-E.
Since WHS is a headless system (no keyboard, mouse or monitor) I needed to know if my files were backed up correctly so after a read of the PDF user manual and the FAQs I configured IDrive-E to back up data hourly if needed and to notify me via email on the backup status.
My test data backed up extremely fast. Internal tests have shown at least a 30% performance advantage over competing services, which could mean a huge difference in backup time as was shown with my backup.
For me IDrive-E gets the Gold award for best online off-site backup provider.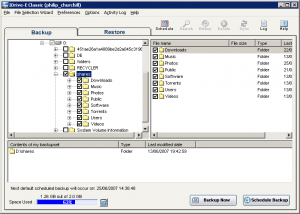 We'll there you have it, a round up of the most popular online offsite backup providers. For me this was a worth while test as my data is priceless and if there was a fire or flood or a lightening strike (the list goes on) at least all of my shared folders are safe and secure. Believe me 120GB is a lot to lose, I know it's happened to me and it is not a very nice experience.
Share this WHS Article with Others: