Its the top 100, and at number two and climbing up the charts its the HP EX475 MediaSmart Server, and straight in at number one this week, in the computer & PC Hardware category its the HP EX475 MediaSmart Home Server.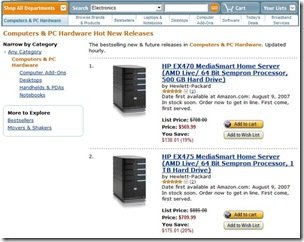 OK, enough of sounding like a DJ. The charts I'm referring to here are the ones at Amazon.com and both of the HP units only went on sale yesterday. That's not bad going, two hot new releases straight in at the top. I'm sure were going to see many happy HP owners shortly.
Thanks to The Windows Home Server Blog for the info.
Share this WHS Article with Others: