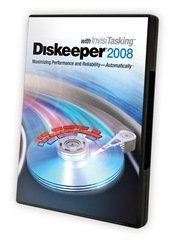 Diskeeper now have a version of their defrag software specifically for Windows Home Server.
Families with multiple PCs linked to a server are constantly saving and deleting their favorite music, photos, movies, video and Office files. This causes the files to become scattered or "fragmented" into thousands of pieces across the disk. The more fragmented these files are in, the longer it takes the computer to read them. It also results in painfully long anti-virus scans (as there are thousands of files to be scanned due to increasing fragmentation levels).
Windows Home Server users need to get rid of this fragmentation to get the most performance and reliability out of their machines. Diskeeper Defragmenter for HomeServer will enable these files to load faster and markedly speeds up anti-virus scan times as well. It does this "on the fly" or as it occurs, automatically, in the background, with no intervention required by the users. Once deployed, your Windows Home Server will run faster with more stability.
Key Features Include:
NEW! Snaps directly into the Windows Home Server console for ease of use.
NEW! Defrags even the fullest drives with 1% free space to ensure optimum performance and reliability.
NEW! Volume Shadow Copy Service (VSS) Compatibility mode leverages the data protection of Windows Home Server's VSS with all the performance benefits found from defragmenting.
Real-time Defragmentation automatically handles performance-robbing fragmentation as it occurs, keeping system speed and reliability at a constant maximum.
Advanced background processing technology ensures no performance hit by tapping into otherwise idle system resources to perform all of Diskeeper's speed enhancing operations.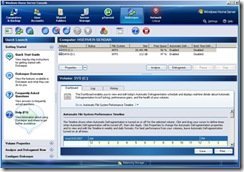 Diskeeper 2008 HomeServer will be available to any Microsoft Windows Home Server customer as an electronic download through the Windows Marketplace, from Diskeeper Corporation at $69.95.
Share this WHS Article with Others: