Back in January we informed you that Hitachi hard drives were more reliable than those from both Western Digital and Seagate. Backblaze who are supplying the data, have new data from over 34 thousand hard drives detailing how these old drives are doing plus data on some newer drives too.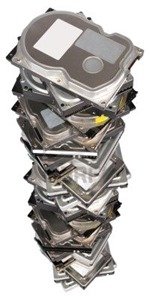 Hitachi are again beating the competition in regards to failure rate with the 3TB (0.7 annual failure rate) being the best followed by the 2TB (1.1%) and 4TB (1.2%).
If you most go WD then the 1TB (3.8%) Caviar Green beat the 3TB (8.8%) Red drives and the 4TB (3%) Seagate beats their 1.5TB (9.6%) and 3TB (6.7%) offerings.
You can see that Backblaze is using three new hard drives: Western Digital Red 3TB, Seagate Desktop HDD.15 4TB, and HGST Megascale 4000 4TB. So far, it isn't looking very good for the Western Digital Red — an 8.8% annual failure rate in the first year is very bad. The Seagate drive is doing OK. The HGST drives (which is a low-end enterprise-class hard drive) hasn't had enough time or failures yet (but it'll probably  be very good, judging by the other HGST/Hitachi drives).
The full report can be found at ExtremeTech.
Share this WHS Article with Others: