Western Digital have announced the Red NAS hard drives in 5TB and first to market 6TB capacity drives, along with a Red Pro series.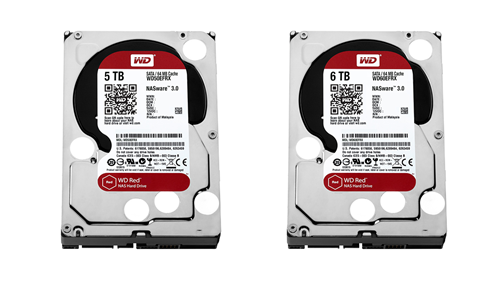 The WD Red 3.5-inch hard drives are now shipping in 1 TB to 6 TB capacities; and the new WD Red Pro 3.5-inch hard drives which are ideal for medium to large business environments, are available in 2 TB to 4 TB capacities.
The WD Red hard drives have increased performance due to NASware 3.0, an enhanced version of WD's original NASware® technology, designed to improve reliability and system performance. The Red's also feature 3D Active Balance Plus, an enhanced balance control technology, which significantly improves overall drive performance and reliability.
The WD Red and WD Red Pro are available now and have three- and five-year limited regional warranties, respectively. Manufacturer's suggested retail price (MSRP) for WD Red 5 TB (model #: WD50EFRX) is $249.00 USD, and $299.00 USD for 6 TB (model #: WD60EFRX). Pricing for WD Red Pro 2 TB (model #: WD2001FFSX) is $159.00 USD, $199.00 USD for 3 TB (model #: WD3001FFSX) and $259.00 USD for 4 TB (model #: WD4001FFSX).
More information can be found here and here.
Share this WHS Article with Others: