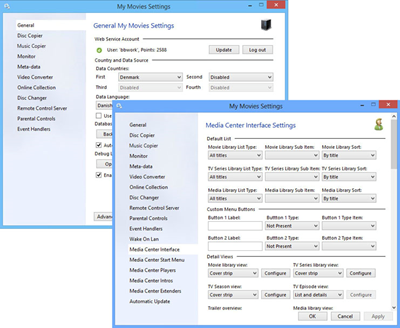 The pre-release version of My Movies Home and Essentials Server Solution has had an update.
Version 5.00 pre-release 10 has the following change log:
Added: Improved update dialogs for update of all Disc Titles / Movies / TV Series
Change: Deprecating of langauge settings, it was duplicated.
Fix: Fixed minor error for path setting on discs in disc title when using folder monitoring.
Fix: Issue created in optimize database that could cause it to crash.
Fix: Incoming crash logs. Crash could occur when returning a broken image from the database.
Fix: Automatic refresh rate changing was broken due to an incorrect code change.
Fix: There was an add type label floating on top when adding monitored folder.
Fix: There could be problems with setting up on total fresh machine.
Fix: Unidentified icon did not stick when screen was refreshed in disc copier list.
Fix: When changing away from disc title with changed data, the user wasn't asked to save the data.
Fix: Removed help icon that should not be displayed.
Fix: Folder import/monitoring to take better use of Mymovies.xml
Fix: IMDB import did not work in Collection Management on WHS 2011 and Server 2012 due to a missing file.
Fix: Box set child titles are no longer included in search result when doing import/folder monitoring.
Fix: The copy to video converter option was listed twice on DVD's, but not on Blu-ray/HD DVD.
Fix: Incorrect paths in the database could cause problems synchronizing collection to the online service.
Fix: Language and country lists in PreviewTitle is now sorted.
Fix: The dashboard asked about missing credentials too often.
Fix: There was some differences between handbrake and My Movies titles on Blu-ray, which could cause conversion problems.
Fix: Opening Collection Management on a server could clear the licensing.
Fix: Progress for handbrake showed progress for initial scan instead of only showing for encoding.
Fix: The video failed after converting if the target folder was set to same as source, and the disc copier was set to the video converter.
Fix: Inherited data wasn't shown correctly in preview of TV Series.
Fix: Alert viewer in Windows now allows for disable/enable and delete of alerts.
Fix: Alert e-mails from Windows got more data in them.
Fix: Expired alerts are no longer shown.
Fix: Error occurred when image selector was opening and no images were available from server request.
Fix: Several minor bugs with folder import, Especially in regards to exiting mymovies.xml files.
More information including the download can be found here.
Share this WHS Article with Others: