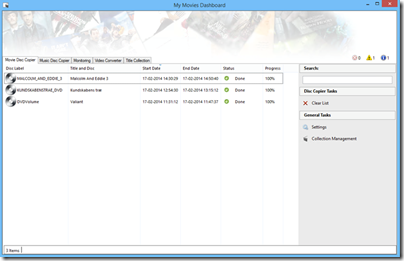 Pre release 4 for My Movies 5 has just been released with the following change log:
Added: Access to API through marking on service. To take care of existing customers using the API.
Change: The requirement to have same username/password on server and client machines is no longer a requirement.BR} Change: Windows Defender and Essentials Security set to exclude the full My Movies storage dir.
Fix: In case of incorrect values in registry, AnyDVD could show as version 0.
Fix: The SQL Server now have the TCP/IP protocol enabled, and correct "Private" network firewall exceptions are added.
Fix: The dashboard link for the Collection Management program did not work.
Fix: Remove Element API command did not work.
Fix: Removed re-occurring logging that could quickly fill up the log.
Fix: Nimbie processing could not start.
Fix: Lack of localization on cover context menu.
Fix: The TV Series lookup dialog was not working.
IMPORTANT – PRE RELEASE 4: The complete file storage functionality have been changed in this release. Due to this, it is very, very important that you create a database backup before installing this Pre Release.  You also need 2,500 points on your user account to use the Pre Release, or registered professionals can download a demonstration license in the installer area.
More information on My Movies 5 is available from here.
Share this WHS Article with Others: