Channel 9 has a series of videos on Windows Server 2012 R2: The Essentials Experience.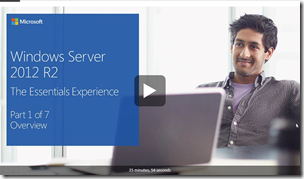 Available as 7 videos or modules, here's the details:
Join us for this session for an introduction to Windows Server 2012 R2 Essentials and the new Windows Server Essentials Experience role available on the Standard and Datacenter editions of Windows Server 2012 R2. You'll get an overview of its main feature areas: data protection, secure remote access, and cloud service integration.

This series is part of the Microsoft Virtual Academy (MVA). The MVA is a free program delivering structured learning paths on various Microsoft products and solutions. Enroll in this course and take the self-assessment. For every module you take and every self-assessment you complete, you will be awarded points. These points build up to levels and the higher the level you achieve, the more opportunities you have to participate in MVA offers.
Module 1 is an overview lasting 36 mins.
Module 2 on Deployment Options and Licensing lasts 36 mins.
Module 3 is Installation, Migration, and Getting Started which lasts 48 mins.
Module 4 is on Server Management and Monitoring lasting 46 mins.
Module 5 is entitled Cloud Integration and Add-ins and lasts 39 mins.
Module 6 User and Computer Management lasts 32 mins.
Finally  Module 7 is on User Experience and lasts 33 mins.
You can find all the modules in this series here.
Share this WHS Article with Others: