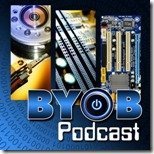 Episode 139 of the BYOB podcast is a show on why you should run a domain using WS2012 Essentials:
The PCDoc is joined by Drashna to dig deeper into the topic of running a domain at home.  As enthusiasts, we will be faced with the potential of making the choice to either upgrade to Windows Server 2012 Essentials or possibly to look for other solutions.  Our discussion today deals with exploring all the benefits and drawbacks to running a domain at home.
This episode along with the show outline can be found here.
Share this WHS Article with Others: