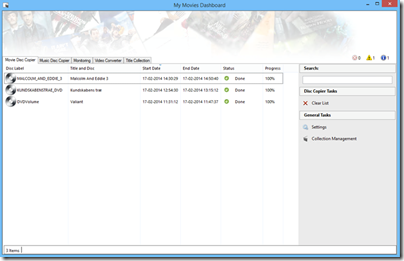 Pre release 3 for My Movies 5 has just been released with the following change log:
Change: The data API now returns correct product name, which causes connection problems for mobile apps. We are going to update the apps.
Change: The creator product name of the video converter created files changed to My Movies for Windows.
Change: The read-only database access have been deprecated. The API is available as an alternative for professionals.
Change: The My Movies log file is now added to the excluded paths of Windows Defender and Microsoft Security Essentials for performance reasons.
Fix: MP4 profiles could fail due to a wrong logging.
Fix: Incorrect point handling could lead to point requirement messages.
Fix: Viewing history on a non-webservice connected titles gave an extra message that the webservice did not respond.
Fix: Opening the edit language dialog multiple times could lead to out of memory issues.
Fix: Titles copied to a local path could not be added to the video converter.
Fix: Some video converter jobs could show as failed although they are running.
Fix: Removed Collection Management icon from dashboard in Windows 7/8 installs, as it is in the start menu.
Fix: Conversions could fail on X86 machines.
Fix: Transcoder job paths was not set correct for local folders.
Fix: Drive configuration button in the settings area did not open.
Fix: The license file for professionals could not be placed in installdir.
Fix: Some video files could not be selected as local trailer file if the file type was not registered in Windows correct.
Fix: There was on X64 machines a problem when storing meta-data for some devices due to an incorrect loading of SQLite.
Deprecated: Storage of Xtreamer meta-data.
IMPORTANT! You need 2,500 points on your user account to use the Pre Release, or registered professionals can download a demonstration license in the installer area.
More information on My Movies 5 is available from here.
Share this WHS Article with Others: