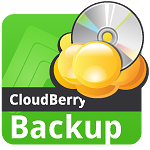 CloudBerry Lab have released version 3.7 of CloudBerry WHS Backup for v1, WHS2011 and WS2012 Essentials.
Here is what's been added to this latest release:
NEW Free Restore – From version 3.7 all CloudBerry Backup users can restore their data without buying a license. Even expired trial version allows to run a restore job.
NEW Integrated SQL Restore* – Now CloudBerry Backup allows to configure regular or single MS SQL databases and backup files restore with integrated Restore Wizard.
* Integrated SQL Restore feature applies only for MS SQL and Enterprise editions of CloudBerry Backup v3.7.
More information on CloudBerry WHS Backup plus, download links plus a free trial can be found here.
Share this WHS Article with Others: