Cloud backup provider Blackblaze has shared its hard drive reliability data detailing which make and models of hard drives have the worst failure rates.
The best are Hitachi and WD drives with Seagate being the worst.
"If the price were right, we would be buying nothing but Hitachi drives. They have been rock solid, and have had a remarkably low failure rate."
With trying to get Hitachi drives at a decent price is getting harder , the WD drives recommended by Blackblaze are the:
1TB Western Digital Green (WD10EADS and WD10EACS)
3TB Western Digital Red (WD30EFRX)
Also to note is that the drives that just don't work in their environment are Western Digital Green 3TB drives and Seagate LP (low power) 2TB drives. Both of these drives start accumulating errors as soon as they are put into production. which Blackblaze think is related to vibration.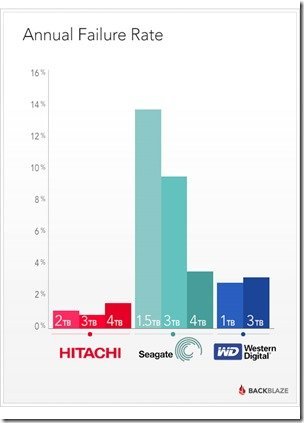 A must read before purchasing additional hard drives, which you can find here.
Share this WHS Article with Others: