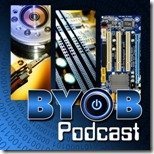 Episode 138 of the BYOB podcast is up:
Paul Braren (tinkertry.com), and John Zajdler close up 2013 and kick start 2014.  It a long show this week so get comfortable as we talk about Essentials 2012, iHomeserver, Synology, and our thoughts on tech for the year.
A great episode which you can find here.
Share this WHS Article with Others: