Its day 2 of our essential server add-in pack giveaway where 1 lucky winner can win either the SBS Essential add-in pack or the WHS V1 Essential add-in pack. First of all congratulations to edleary1227 who wins yesterdays SBS Essential add-in pack. Please forward us your email address and the exclusive pack will be on its way to you.
Remember that each pack comprises 4 add-ins:
SBS Essential add-in pack:
Supports:
Server 2012 Essentials, WHS 2011, SBS 2011 Essentials, and Storage Server 2008 R2
Contains:
Iso Mounter – mount and expose iso image files as a folder from your server
Snoop de dupe – reclaim storage space on your server; easily locate, delete, and hard-link duplicate files on your server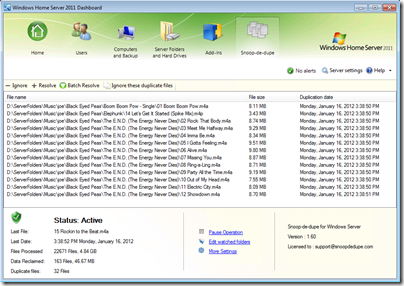 Integrity Checker – validate file data stored on your server; automatically generate cryptographic SHA-1 hash on all files stored on your server
Archive Manager Premium – archive, backup, and save unlimited versions of files to local storage devices and UNC paths; supports compression, encryption, and automatic archive pruning
Cost:
Save 50% when you purchase the essential pack using the coupon code MSWHSESSSBS. Buy the SBS essential pack now. Alternately, if you don't want to purchase the entire essential pack then purchase one add-in at the regular price and get additional add-ins discounted 20%. Buy individual add-ins.
WHS V1 Essential add-in pack:
Supports:
Windows Home Server V1
Contains:
For todays chance of winning a copy, we want to know what piece of electronic equipment you would most like for Christmas. Let us know in the comments below and 1 winner will be announced at 1PM (GMT) tomorrow – Good Luck!
UPDATE: Day 2 of this competition is now closed.
Share this WHS Article with Others: