The add-in Lights-Out has had an update.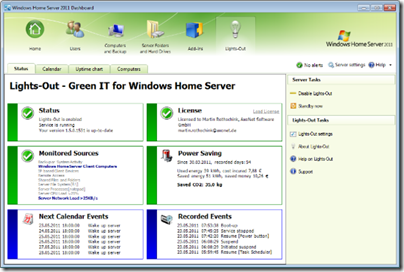 Version 1.5.5 includes a couple of bug fixes and adds official support for:
Windows 8.1
Mac OS X 10.9
Windows Server 2012 R2 Essentials SKU and Essentials Role
Here's the change log for the version which covers WS2012 R2 Essentials, WS2012 Essentials and WHS2011:
Added official support for Windows Server 2012 R2 Essentials SKU and Role
Added action timer on status tab, color change during count down
Increased max. delay time limit to 240 minutes
Web page gadget now shows only wake action on home page (standby is still available on Lights-Out computers page)
Standard action is now suppressed if backup or calendar tasks are scheduled within next 3 minutes
Improved communication between Dashboard and Service
Fixed a configuration issue for the Lights-Out Mac Agent
Fixed a bug in ShareMonitor introduced in 1.5.4
Fixed client About dialog, shows no longer licensed to <number> if server is not running
Shutdown is now again recorded on WHS 2011 product line
Fixed managing computers and server via mobile app
Web page gadget on Home page does now work with 2012 R2 Essentials
Mobile web page for Lights-Out on 2012 R2 Essentials does no longer crash
Fixed jumping mouse arrow on client
More details including a full 30 day trial version can be found here.
Share this WHS Article with Others: