The Sentinel DS5100/DS6100 are 2 new offerings from WD.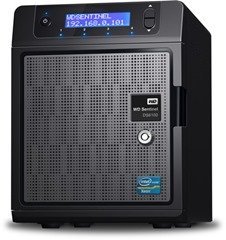 Similar too the WD Sentinel DX4000 these 2 new offerings come with Windows Server
2012 R2 Essentials instead of Windows Storage Server 2008 R2 Essentials. A Intel Xeon processor with RAID JBOD, 0, 1, 5 or 10.
The WD Sentinel DS5100 is available in 4TB ($2,560) and 8TB ($3,200) configurations, both with 8 GB of ECC RAM. Mean while the WD Sentinel DS6100 is available in 8TB ($3,440),
12TB ($3,960) and 16TB ($4,560) configurations, all with 16GB of ECC RAM.
The DS5100 also includes a 2.5" boot drive and the DS6100 has 2 2.5" boot drives configures as mirrored, RAID-1.
More information is available from WD, and a PDF data sheet is also available.
Share this WHS Article with Others: