Home Server SMART for version 1 of WHS v1 has been updated, re-named and a beta is available.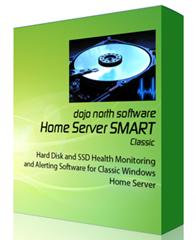 Home Server SMART is now known as Home Server SMART Classic now  has support for SSDs, has mobile notifications, disk self-tests, exporting of results plus more.
Installing Home Server SMART Classic: HSS Classic now uses version 3.5 of the Microsoft .NET Framework. Version 3.5 is really just an extension of .NET 2.0, unlike .NET 4.0 which is a whole new version. Before installing HSS Classic please be sure you've applied the Microsoft .NET 3.5 update. Otherwise the add-in will not function properly and may cause the Console to crash when you open it.

Next, the WHS Console will see HSS Classic as a separate add-in from HSS, so it is possible to install HSS Classic without uninstalling the older version. Do NOT install them side-by-side! Please UNINSTALL Home Server SMART before attempting to install Home Server SMART Classic. Also, if uninstalling HSS or installing HSS Classic prompts you to reboot, make sure you do so. If you don't reboot, HSS Classic won't work correctly until you do.
The free add-in is currently available in beta form and can be downloaded from here.
Share this WHS Article with Others: