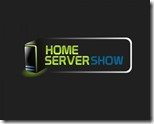 Episode 235 of the Home Server Show is up and this week its mostly about their upcoming meetup:
It's a light week of news but Jim is back and I'm recovering from last week's awesome show with the SBS Diva.  This week we are talking Synology, Meetup, and my new T-shirt. Yes, a shirt.   You'll just have to listen or you can watch it on YouTube.  Oh, I also announce a HUGE give away item for meetup attendees.  It's the biggest give away i've every done.
You can find episode 235 here.
Share this WHS Article with Others: