Paul Thurrott has a review on the next release of WS2012 Essentials. Known as Windows Server 2012 Essentials R2 Paul has reviewed the Preview version on his site, Supersite for Windows.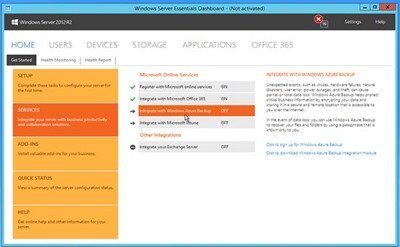 Cloud related changes and integrated Office 365 are in this release. As are connecting Windows Phones, iPhones, iPads, and Android devices:
"These devices can be controlled (through Office 365) with Exchange ActiveSync (EAS) capabilities like Remote Wipe and device blocking, and you can configure EAS policies right from the Essentials R2 Dashboard."
Remote Web Access has had a makeover and looks like the SkyDrive web interface and the Launchpad is now closed on startup by default too.
Whilst Paul was allowed a sneak peek at this latest incarnation of WS2012 Essentials, the rest of us will have to wait until the end of June for the Preview release.
Share this WHS Article with Others: