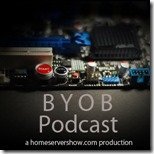 Episode 124 of the BYOB podcast is up:
"This week BYOB joins Jim Collision from the average guy network to talk about using VM's in the home environment.  Mike talks briefly about his first round with Haswell.  A special thanks to Jim for hosting and recording the show."
You can find it here.
Share this WHS Article with Others: