With the popularity of the HP ProLiant MicroServer, HP today announced a new generation of the MicroServer named Gen8. Available in 2 configurations the G1610T model comes with a 2 Core Intel Celeron G1610T processor (2.3 GHz, 2MB, 35W) and 2GB RAM for $449, whilst the $529 G2020T model comes with the beefier 2 core Intel Pentium G2020T processor (2.5 GHz, 3MB, 35W) and again 2GB of RAM.
Both models will except up to 16GB of RAM across two DIMM slots, and have a Dynamic Smart Array B120i/ZM storage controller and Gigabit Ethernet controller with twin ports.  A nice addition to earlier models.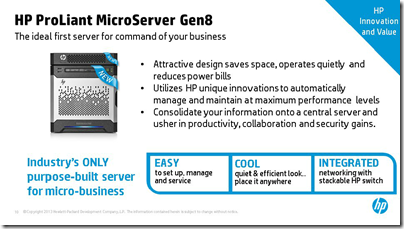 Overview
The HP ProLiant MicroServer Gen8 is a small, quiet, and stylishly designed server that is ideal as a first server solution for small businesses. With a form factor that is easy to use and service, it helps small businesses drive down their expenses while improving productivity, efficiency, and security.
Features
Simplified IT Management with Built-in Gen8 Technologies
HP ProLiant MicroServer Gen8 comes with HP iLO4, providing access to innovations like Intelligent Provisioning for quick and simple installation and setup.
Instant out-of-box server set up and deployment.
Embedded remote management technology reduces on-site server administration and travel expenses.
Continuous, proactive health monitoring ensures faster and more accurate problem resolution.
Hassle-free Serviceability Maximizing Uptime and Productivity
Tool-less access to hard drives, memory, and PCI slots for simple installation or upgrade.
Improved serviceability with features such as icon-based status display and system health status LEDs.
Two up-front USB ports allow for easy deployment.
Unique Server Design Ideal for Small Offices
Small, quiet, energy efficient, and can be placed anywhere.
Stylish blue LED light bar for at-a-glance system health status.
Stackable managed switch creates clean, elegant look for networking and compute.
More information from HP.
Share this WHS Article with Others: