The quick spec guide for the new Gen8 MicroServer is up at HP's website.
The guide goes through the front and rear view of HP's newest incarnation of the MicroServer and gives us all the specification for the Gen8.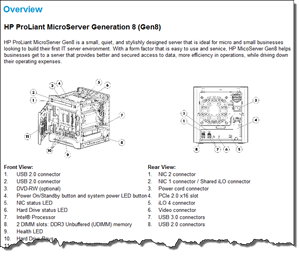 There is lots of information here, for the would be purchaser or if you just want to check out the latest info on the Gen8 MicroServer.
http://h18004.www1.hp.com/products/quickspecs/14565_na/14565_na.HTML
Share this WHS Article with Others: