The add-in Lights-Out for Windows Server, Windows 7 and 8 has been updated to version 1.5.4 Build 2033.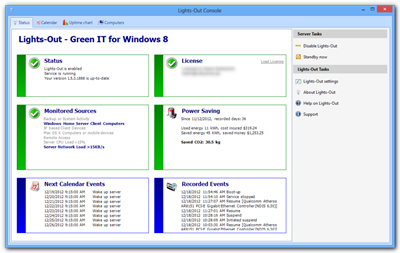 What's new in version 1.5.4 Build 2033 (Service Pack 4):
New Platforms
Added support for Windows 7, 8 running as a "Home server" or standard Windows Server.
Differences between Lights-Out on WHS and Windows 7/8
There is no WHS Connector and therefore no working communication infrastructure on Windows 8
Lights-Out uses a special (TCP/IP based) communication protocol on port 7679
Port 7679 is opened during installation on the Windows 7/8 "Server", if you use another personal firewall you have to open port 7679 by yourself
Client computers are joined during setup to their server, server discovery is handled by sending a multicast on port 7679
There is no pre-configured SSL infrastructure on Windows 7/8
There is no client backup handled by the server
There is no WHS Console on the client
Known issues:
No backup support for clients
Mac and Mobile support only in LAN (local), not in WAN because SSL infrastructure is missing
Changes from last Beta
New 30 day evaluation period
Improved support for multiple network cards (server)
Client software can wake additional devices (registry key required)
Client software is now installed into a different folder to avoid conflicts with server software
Server installer uses a different ID to avoid conflicts with client installer
License upgrade
If you change platforms and require a new license you can now read in your existing license to obtain your personal discount code.
More information can be found in topic Licensing Lights-Out.
You can evaluate Lights-Out for a period of 30 days. After that period, Lights-Out changes into a Community Edition with a limited feature set.
To enable all features after the trial period you have to purchase a license.
A personal license starts at 15€ + VAT = 17.85€ in Germany (VAT if applicable).
More information is available from here.
Share this WHS Article with Others: