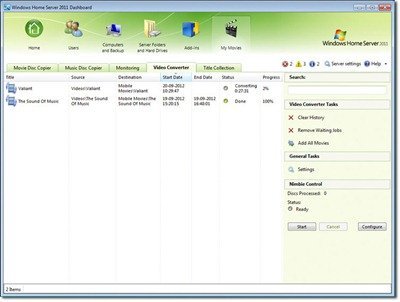 Another update for My Movies Home and Essentials Server Solution for users of WHS 2011 and WS2012 Essentials.
Version 2.13 has the following changes:
Added: Option to use external storage devices instead of only internal storage.
Update: Product package renamed to My Movies Home and Essentials Server Solution to cover that the package is now common for Windows Home Server 2011 and Windows Server 2012 Essentials.
Change: Windows Media Encoder is no longer installed by default, but only installed when selecting to convert to Windows Media format.
Fix: ReFS file system drives is now supported for disc copying.
Fix: In some situations a file could corrupt, and the dashboard icon disappear.
Fix: The application prompted to register AnyDVD when updating, even if already installed.
Fix: MusicBrainz was disabled was a meta-data provider during Pre Release testing, and is now enabled again.
Fix: Music covers was not backed up.
You can download this release from here.
Share this WHS Article with Others: