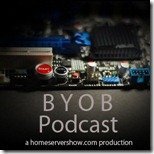 Episode 110 of the BYOB podcast is up, and for this episode:
Its the low cost podcast this week. DNS-325 recycling, iOS now has an OpenVPN app, Firebox x500 modded to be a router, and the Obi100 VoIP with Google voice.  We are fortunate to be joined by Tobias Hieta from Plex Media to talk about the Plex applications.
You can find episode 110 here.
Share this WHS Article with Others: