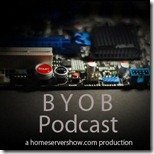 Episode 108 of the BYOB podcast is up:
The guys are joined by JPEG2RAW host Mike Howard this week to discuss his Windows 8 media center. We talk a bit about our desires for CES. We'll also touch on custom routing vs consumers solutions. Its the all Mike edition of the BYOB Podcast.
You can grab this weeks edition from here.
Share this WHS Article with Others: