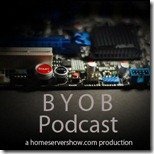 Episode 107 of the BYOB podcast is up:
Last show of 2012! We have a special guest with us today. Gavin Campbell is going to share his virtual server. Michael has updated his virtual server as well. It the Virtual edition of the BYOB Podcast.
You can find episode 107 here.
Share this WHS Article with Others: