CloudBerry Backup for WHS version 3.2 has been released.
The new release comes with the following features.
Amazon Glacier Smart Restore. Amazon Glacier data restore is charged based on the peak usage during the given month. In other words if you have to restore 100GB and you restore them in 1 hours you will pay one amount. But if you restore 1GB for the next 100 hours you will pay 100 times less.
This latest release of CloudBerry Backup v 3.2 also has the Smart Restore functionality, that allows you to manage data restore budget in an intelligent way.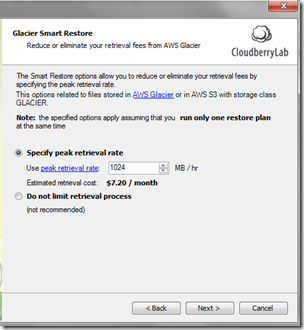 CloudBerry Lab is offering 40% discount for CloudBerry Backup for WHS 2011 if you purchase till 1/1/2013 . you can buy it for just $17,99 (full price is $29,99)
https://sites.fastspring.com/cloudberrylab/instant/whs2011?coupon=WHS122012
and for SBS 2011 Essentials (Windows Server 2012 Essentials). you can purchase it at just $41,99 (full price is $69,99)
https://sites.fastspring.com/cloudberrylab/instant/sbs2011?coupon=SBS122012
Share this WHS Article with Others: