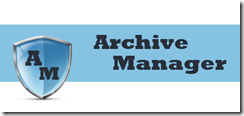 The add-in Archive Manager has been updated to version 2.10
"Archive Manager is a fully featured data management software tool allowing you to safe-guard your digital life. Archive Manager will backup, archive, and recover your entire digital life."
This latest version now includes integrated Microsoft Server Dashboard support for WHS 2011, Server 2012 Essentials, Storage Server 2011 R2 and Small Business Server 2011.
A fully functional 60-day free trial is available; as is the Standard version for $19.99 USD, and the Premium version for $29.99 USD.
More information on Archive Manager is available from here.
Share this WHS Article with Others: