ViridianPC have announced their latest products, and the first systems in their second generation of servers.
The new models, the PureServ Pro 4HC G2,  HomeServ Pro 4HC G2 and OfficeStor Pro 4HC G2 all have new features, and at a considerably lower price.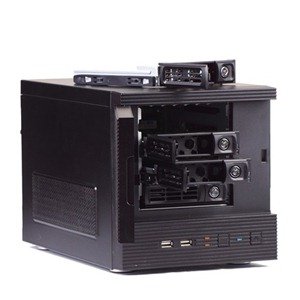 As in the last generation servers, the compact and practical chassis can house 4 hot-swappable data drives in a small and quiet housing, however what they have changed is the following :
Faster and more energy efficient – The new generation features support for the latest Intel 'Ivy Bridge' CPUs, from the dual core Pentium G2100T through to the powerful quad-core Xeon E3-1265L v2.
Enhanced reliability – Regardless of the CPU option, the new generation is equipped with server-grade error-checking and correcting memory, now an expensive Xeon CPU isn't required for ECC support.
Improved responsiveness and performance – The operating system is now installed on a super-fast solid state hard drive as standard. (Optional extra on PureServ model)
Upgraded expansion options – The 4HC G2 now features dual USB 3.0 ports as standard.
The second generation is available immediately on their webstore. Click here for the WHS 2011 based HomeStor and here for the WSS 2008 R2 Essentials based OfficeStor. This system is also available as a PureServ system without hard drives or OS here. Prices start at £395 for the PureServ system.
Share this WHS Article with Others: